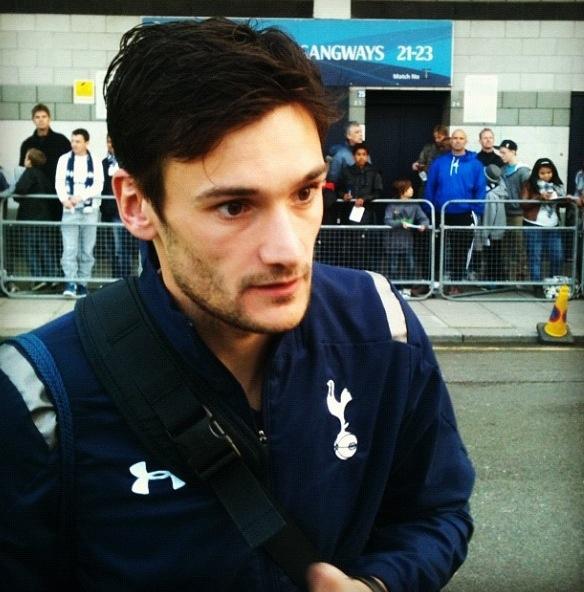 Hugo Lloris meeting fans today (via twitter)
He received a hero's welcome when he emerged from the tunnel but Hugo Lloris barely had anything to do during his EPL debut. Many were surprised about Lloris starting instead of Friedel but I was not. Earlier in the week I tweeted that I expect Lloris to make his EPL debut against Aston Villa and when I posted Spurs schedule for this month, I mentioned it yet again: 'I expect Lloris to make his EPL debut against Aston Villa.'
Therefore I was not surprised.
Lloris ended Brad Friedel's run of 310 consecutive Premier League starts and of course, Friedel was disappointed not to start in goal (as AVB told us after the game). Lloris looked solid during the first half but after the break, he barely had anything to do but he did not hesitate to come off his line – a criticism often aimed at Friedel. His only bad move of his EPL debut came just after the break when he carelessly threw the ball to Vertonghen, but Aston Villa failed to take advantage as Spurs went on to win 2-0 and Lloris kept their first clean sheet of the season. And yet again, Lloris won some fans' vote for Man of the Match.
Spurs sits nicely at #5 on the table.
STATS:
Total Minutes Played: 90
Goal Kicks: 3
Saves: 3
Goals: 0
Shots on Target: 0
Lloris v Aston Villa: