Game on!
Hugo Lloris and company travels to take on Norwich City tomorrow and they can look forward to getting some revenge:
https://inthesafetyofhugollorisgloves.wordpress.com/2012/11/01/lloris-v-norwich-city-spectacular/
Check your local listings (I've already checked mine) and tune in to cheer EPL's greatest goalie on.
Good luck Spurs.
Signing session at Megastore
Lloris and team mate, Mousa Dembele will take part in a special signing session for fans at the Spurs Megastore, White Hart Lane, on Tuesday, February 19 between 3 pm-4 pm.
And according to the club's official site:
Please note it is a maximum of two items per person for autographs and limited to the first 300 people.
There will also be limited access to photo opportunities to ensure everyone visiting the Megastore will get their chance to meet the players.
Players/times are still subject to change – please check the website nearer the time…
So get yourself down at the Lane if you want something signed and comply with the rules.
Lloris v …
Via @Footie_Logic over on Twitter, here is how Hugo Lloris has been performing in the EPL against Brad Friedel and David De Gea: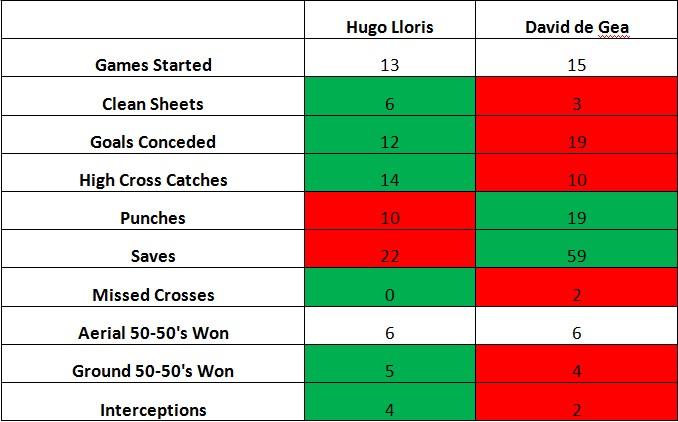 Pretty nice, eh?
Fabian Barthez on French goal keeping
Although former goalie, Fabian Barthez has praised Hugo Lloris and Steve Mandanda, he is worried about French goalkeeping. Read all about it here:
http://myheartbeatsfootball.wordpress.com/2013/01/29/fabian-barthez-worries-about-the-french-quality-between-the-posts/