Hugo Lloris was back in action between the sticks earlier for Spurs at Upton Park. Spurs won 1-0 and he had a fairly good game, but THAT save! Fans are still talking about the save he pulled off prior to Dier scoring the late winner.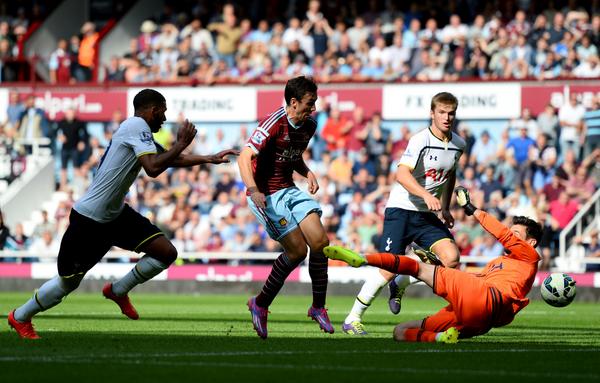 Watch the insane save via @TalkingTHFC :
https://mtc.cdn.vine.co/r/videos_h264high/44DDB09A721112454468592930816_SW_WEBM_14082039915669feb57cd52.mp4?versionId=rRM495JZLfN.FxYGnEQ_eVRIb6W9bxmQ
Hugo Lloris keeps his first clean sheet of the season (as he did for the past two seasons against Aston Villa and Crystal Palace in the openers). This is also his first clean sheet against West Ham. It's always great to kick the season off with a win.
To read more, go here:
http://myheartbeatsfootball.wordpress.com/2014/08/16/ready-set-go-spurs-get-their-201415-campaign-underway-at-upton-park/
Lloris v West Ham (pics)